Emergency crews responded overnight to the posh Florida street where embattled golfer Tiger Woods lives after a 911 call early this morning.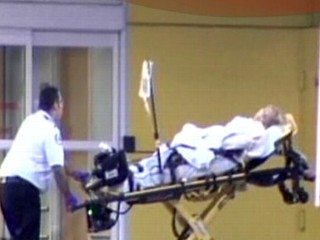 An unidentified blonde woman was transported to the hospital early Tuesday after a 911 call was placed from the neighborhood where golfer Tiger Woods and his wife, Elin Nordegren, live.
(ABC News)
More Photos
ABC's Orlando affiliate WFTV reported seeing a woman being removed from the ambulance on a gurney after arriving at the Health Central Hospital in Ocoee. The ambulance was followed by a black Cadillac Escalade, similar to the car Woods was driving when he crashed into a tree nearly two weeks ago, setting of a firestorm of tabloid reports about domestic strife and his many apparent mistresses.
Witnesses told WFTV that the Escalade was driven by an attractive blonde who bore similarities to Woods' wife, Elin Nordegren, and the car's license plate was one number off from the plate on the car Woods was driving the night of the crash.
Nordegren's mother and twin sister were rumored to have been spending time at the home.
The activity in Woods' Deacon Circle neighborhood comes hours after reports that Nordegren may have moved out and purchased a home in Sweden.
Click to read.