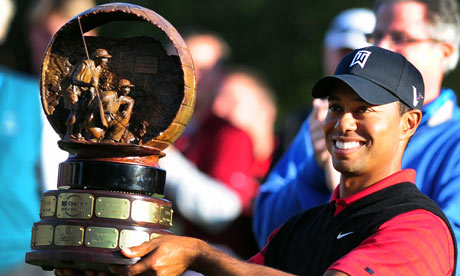 by Dr. Boyce Watkins –
YourBlackWorld.com
Almost exactly two years ago, it was the beginning of the end of Tiger Woods and his reign of greatness. The man who'd been long considered the greatest golfer in the history of the world hit a downfall, seeming to be unable to find his old game.
Since that time, Woods has dropped from being ranked number one in the world to falling out of the top 50, he's been subject to ridicule from other golfers, and he's lost nearly every endorsement deal he had before the scandal took place. Things can't get much worse for Woods, and it appeared that we might have seen the last of the old Tiger.
But at least for a moment, Tiger appears to be back on top.
Tiger won his first golf tournament in two years after capturing the Chevron World Challenge at the Sherwood Country Club. He edged out Zach Johnson to get the title, shooting 10 under par and registering an outstanding performance in the process. The tournament benefits Woods' charitable foundation, and he's won it a total of five times.
The Chevron Challenge is not a PGA tour sponsored event, inviting only 18 players. So, Tiger still has yet to prove that he can navigate a large and difficult field. But getting a win is important for his confidence.
Woods' last win was the Australian Masters on November 15, 2009. It was Thanksgiving of that year when he crashed his car in an odd incident involving his wife, and allegations of infidelity began to surface. This led to an expensive divorce, as well as slides in his public image and performance.
Only time will tell if Tiger Woods is back for good. There was a time when Tiger seemed like the invisible young force determined to take over the golfing world. Now, he's starting to look like a tired old man who's been made weak by money and fame.
But in spite of his recent decline, it may not yet be over for Tiger. I'd hate to see him give up while being this close to breaking the seemingly unbreakable record of the great Jack Nicklaus. Nicklaus' previously untouchable record of 18 major championships is within shouting distance (Tiger has won 15) and there is a part of me that prays that he finds the strength and focus to finish the last mile of his lifelong journey.
Tiger, you've come too far to quit now. Your father wouldn't want you to go out like this.
Dr.
Boyce Watkins
is a Professor at
Syracuse University
and founder of the
Your Black World
Coalition. To have Dr. Boyce commentary delivered to your email,
please click here.