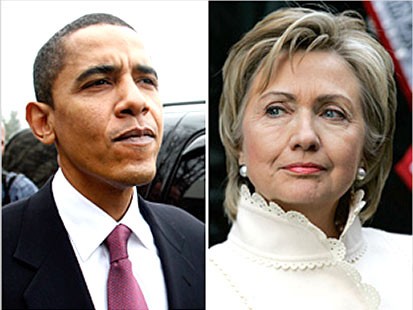 Barack Obama is now the frontrunner.
Yesterday, Senator Barack Obama slammed Hillary Clinton once again, winning 3 more primaries in relative landslides. Obama's wins in DC, Maryland and Virginia pushed him past Senator Clinton and into the lead in the race for the Democratic nomination.
According to estimates by CNN and other networks, Obama now has 1,215 delegates and Clinton has 1,190. One needs 2,025 delegates to clinch the nomination.
This is the eighth straight primary that Obama has won. This result is a far cry from just one month ago, when Clinton was the strongest candidate.
"The change we seek swept through Chesapeake and over the Potomac," said Obama.
"We won the state of Maryland. We won the commonwealth of Virginia. And though we won in Washington, D.C., this movement won't stop until there is change in Washington, D.C., and tonight we're on our way."
While Bill Clinton had once mentioned Obama as being similar to Jesse Jackson, this has not shown itself to be the case. While stealing a large number of African-American votes from Clinton, Obama has also taken many of her white and Hispanic supporters. He has also eaten into her female support.
According to exit polls in Virginia and Maryland, Obama walked away with 60% of the female vote. He also had as much as 90% of the black vote in all three states. The white vote was split down the middle.
Some have stated that Clinton's loss of Latino voters stemmed from the firing of her campaign manager, a Latino woman. Clinton did, however, win among white women, who gave her a 10 point edge over Obama.
Clinton, who appears to be struggling both financially and politically, has started to turn her focus on Texas and Ohio.
"We're going to sweep across Texas in the next three weeks, bringing our message about what we need in America ... I'm tested, I'm ready. Let's make it happen," she said.
She now has an uphill battle.