Seven people were killed in a rush-hour collision between two Metro trains in Washington on Monday, D.C. Mayor Adrian Fenty said Tuesday.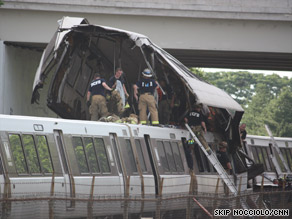 Firefighters climb atop the wreckage of two Metro subway trains that collided Monday in Washington.
There had been conflicting figures on the number of deaths.
Fenty said 76 people were taken to hospitals, including two who were in critical condition. Their conditions remained stable overnight, he said at a news conference. The condition of another critical patient was upgraded.
Two of the injured were emergency responders, said Washington Fire Chief Dennis Ruben.
Another news conference is scheduled for 5 p.m. ET, Fenty said. By that time, the trains will have been taken apart, and "hopefully, there won't be any more" deaths discovered, he said.

Watch what officials know about the crash »
Officials planned to begin notifying next-of-kin this morning, Fenty said, adding that offices already have been fielding calls from families seeking information.
www.yourblacknews.blogspot.com