WASHINGTON (CNN) -- A lone gunman wounded a security guard at the U.S. Holocaust Memorial Museum on Wednesday before being injured by return fire, according to police and a museum statement.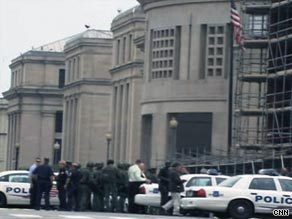 Police cars mass outside the Holocaust Memorial Museum in Washington after a shooting there on Wednesday.
The suspect was identified as James von Brunn, an 88-year-old white supremacist from Maryland, two law enforcement officials told CNN.
Gunfire at the entrance of the museum wounded at least two people Wednesday, emergency officials said.
A private security guard and the shooting suspect were wounded, according to officials of the Washington police.
Sgt. David Schlosser, a spokesman for U.S. Park Police, told reporters a man armed with a "long gun" entered the museum at 12:50 p.m. and fired at a security officer, and both were wounded in the exchange of gunfire.
"My understanding is that two other security officers at the museum returned gunfire at the man that had entered the museum," Schlosser said.